Not long ago, a loyal reader wrote in to say how Bumbo baby seats are a sure-fire sale on eBay. I couldn't agree more. A typical pre-owned Bumbo seat can usually be had at a garage sale for an easy $3 to $5 dollars. Once bought, they're a quick, profitable eBay flip. Shipping them is also hassle free. Bumbo seats are made of dense foam rubber,
so y
ou never have to worry about them getting damaged in the the mail. Overall, Bumbo seats can be an eBay seller's best find at a garage sale! But recently there's a been some not-so-good news that could potentially affect the prices of used Bumbo seats. Check out the article I found last week:
Bumbo Baby Seats Recall: 4 Million Infant Floor Seats Recalled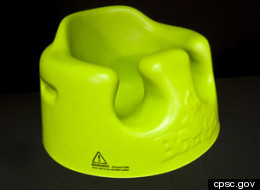 WASHINGTON — About 4 million Bumbo Baby Seats are being recalled after nearly two dozen reports of infant skull fractures.
The Consumer Product Safety Commission says babies can wiggle out of the floor seats.
About 1 million of the molded foam seats were recalled in October 2007 for additional warning labels against placing the Bumbo seats on raised surfaces, such as tables or kitchen counters.
Since the first recall, CPSC and Bumbo International of South Africa have learned of at least 50 incidents in which babies fell from Bumbo seats while they were being used on raised surfaces. CPSC says another 34 babies fell from the seats while they were being used on the floor or at an unknown elevation. In all, there were 21 reports of skull fractures to infants.
Consumers are asked to stop using the seats and contact Bumbo for a free repair kit that includes a restraint belt and instructions on how to safely use the seat. The repair kit can be ordered by visiting or calling 866-898-4999. www.recall.BumboUSA.com
In a statement, the company said it was adding a restraint belt to enhance the safety of children using the Bumbo seat.
"The restraint belt will help prevent children from getting out of or falling from the seat when it is used as intended: on the floor with adult supervision and never on raised surfaces," said the statement. "The health and safety of children using the Bumbo Baby Seat are our top priorities."
The Bumbo floor seats were sold at Babies R Us, Target, Walmart and other retailers nationwide from August 2003 through August 2012.
Despite the recall, these are still great little seats. The main reason some kids are getting hurt is due to parents ignoring the safety instructions, placing the child in precarious elevated spots like a table or counter. Hopefully, the safety strap will prevent kids from squirming their way out of the chair and taking a tumble. If you pick up a Bumbo seat at a future garage sale, don't forget to contact the company for the free seat belt they are offering to consumers.
After reading this article I wondered if the news of the recall would put a damper on Bumbo sales? Checking on eBay, it seems the recall hasn't affected current prices. A quick scan of completed listings show pre-owned Bumbos are still selling in the mid-twenty dollar range.
Even better still, Bumbo seats with the snap-on trays can average $30 dollars or more on eBay!
This is about what I've sold them for prior to the recall announcement.
Prices vary depending on condition and color. As you can probably guess, pink and blue seem to be the most popular colors.
So don't let the news of this recall slow you down. When you see a Bumbo seat at your next garage sale-buy it!
Have you heard of any recent recalls we all should be aware of? Give us the story below....
Pin It now!